MoU Signing between G Element and NEC Asia Pacific




MoU Signing between G Element Pte Ltd and NEC Asia Pacific Pte Ltd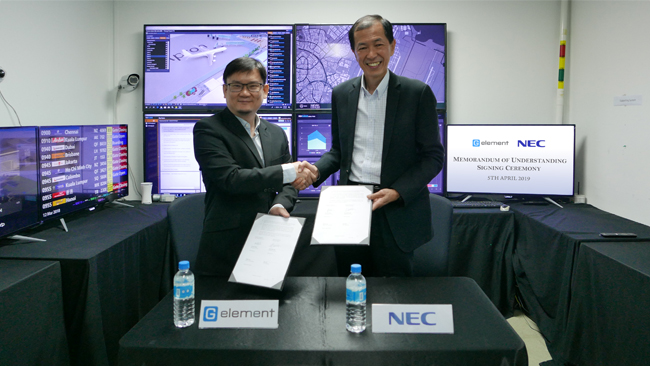 Singapore, April 5, 2019 – A Memorandum of Understanding was signed between G Element Pte Ltd and NEC Asia Pacific Pte Ltd, by Mr. S.W. Yeow as Managing Director of G Element Pte Ltd and Mr. Lim Kok Quee as Managing Director (Singapore) of NEC Asia Pacific Pte Ltd. This symbolizes the commitment between both companies to co-develop and co-market joint business and solution development for the public safety and security market.
The aim of signing the MOU is to bring advanced technologies and solutions to government for safeguarding of cities, turning cities into Smart and Safe Cities, where people are able to live, work, and play in safety and comfort while also coexisting in harmony with the environment.
About G Element Pte Ltd
G Element is Asia's leading unified platform company for smart buildings and cities. Based in Singapore with partner ecosystem networks across Asia, G Element has deployed solutions for commercial buildings, data centers, facilities, smart islands and districts across Asia. Our award-winning 3D open platform, NUCLEUS, unifies diverse sensor systems in buildings and cities to enable powerful situational awareness and management. For more information, visit https://www.gelement.com
About NEC Asia Pacific Pte Ltd
NEC Asia Pacific (NEC APAC) is the regional headquarters for NEC Corporation (HQ: Japan) in the Asia Pacific region (South and Southeast Asia).
As a leading information and communications technology provider, NEC APAC provides innovative solutions and infrastructure to promote safety, security and enhance the quality of life for individuals and the community.
Together with our research laboratories, NEC APAC provides cutting-edge public safety, cybersecurity technologies and enterprise solutions to enable safer cities, with a vision to create a brighter future. For more information, visit https://sg.nec.com/