We live and breathe buildings and cities.
Founded in 2001 and headquartered in Singapore, G Element is a software company developing 3D digital twin platform solutions for smart buildings and cities.
As buildings become more "live" with sensors and real-time sub-systems, it is also increasingly more difficult to assess, visualize and make informed decisions on the real-time data points that are distributed across tens of building floors and across multiple buildings in a precinct or district.
Thus, at G Element, we make it our mission to help our users understand such immense information effectively in real-time to obtain open, unified awareness of their "live" smart building/city situations for informed decision-making. To that end, we have developed an award-winning 3D command center platform Senfi that combines interactive 3D building/city models with real-time sensor data which is represented in a digital twin, to continually provide managers with total awareness and incident management of live situations in their buildings/cities.
Company Journey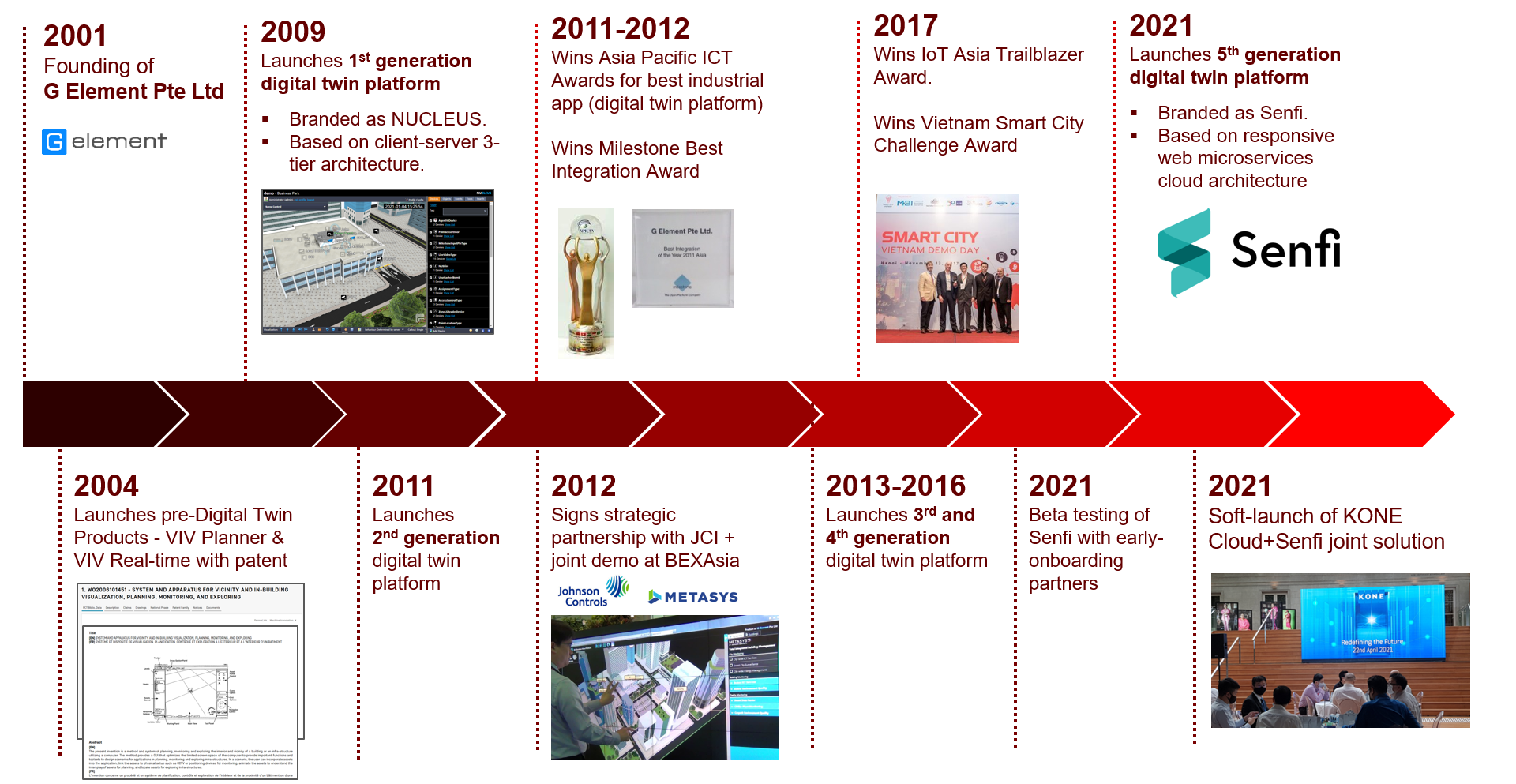 Industry recognition and awards
Our 3D products have won prominent awards and recognition from key industry partners in the Asia Pacific and European region, including :
> 2017 – Top Smart City Innovators in Vietnam Smart City Innovation Challenge
> 2017 – Winner of IoT Asia Trialblazer Award
> 2012 – Winner of Asia Pacific ICT Award for Best Industrial Application
> 2012 – Singapore SiTF Award for Emerging Applications
> 2012 – Malaysia YES YTL Technology Prize
> 2011 – Asia Pacific Milestone Best Integration Award
> 2010 – Stockholm Challenge (Finalist)
> 2008 – Navteq LBS Challenge (Semi-Finalist)