We live and breathe buildings and cities.
Founded in 2001 and headquartered in Singapore, G Element is a regional, prop-tech company providing digital twin solutions with autonomous intelligence for smart buildings and cities.
As buildings become more "live" and "smart" with sensors, AI, IoT and robotics, it is also increasingly more difficult for building stakeholders to assess, visualize and make informed decisions on the health and real-time situation of smart buildings and smart cities.
Thus, at G Element, we make it our mission to engage, advise and help our clients unlock transformational business benefits that come from understanding such immense digital information effectively in real-time and in totality.
To that end, we have developed an award-winning digital twin platform Senfi that combines 3D BIM data, artificial intelligence, robotics and real-time sensor data to continually provide managers with full insights into their buildings/cities, enabling our clients to achieve the digital transformation critical for workforce optimization, workplace wellness, sustainability goals and new business models.
With more than 150+ key sites deployed today, we have the proven, successful implementations to advise clients on the digital transformation and sustainability initiatives for their smart buildings and cities.
Company Journey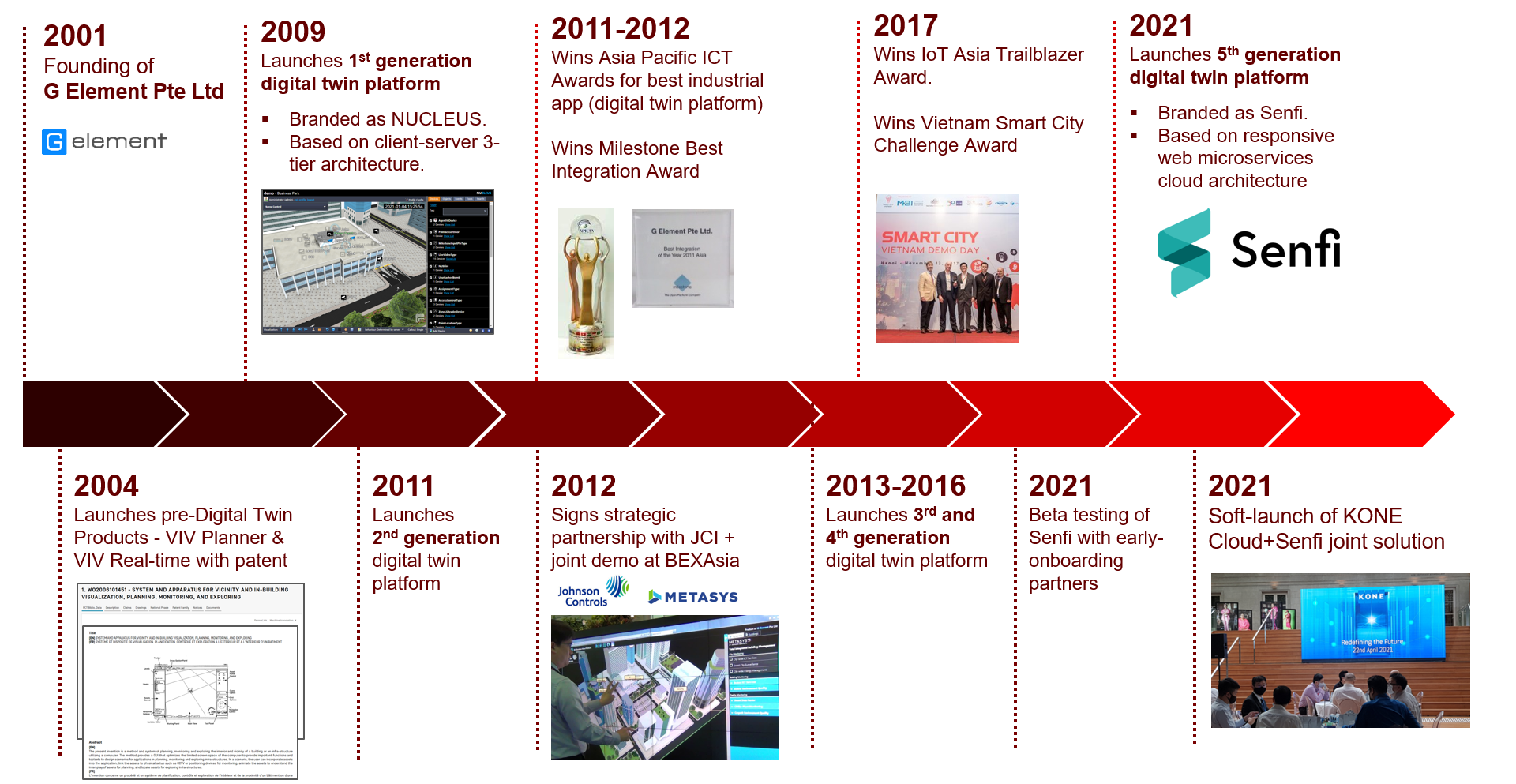 Industry recognition and awards
Our 3D products have won prominent awards and recognition from key industry partners in the Asia Pacific and European region, including :
> 2017 – Top Smart City Innovators in Vietnam Smart City Innovation Challenge
> 2017 – Winner of IoT Asia Trialblazer Award
> 2012 – Winner of Asia Pacific ICT Award for Best Industrial Application
> 2012 – Singapore SiTF Award for Emerging Applications
> 2012 – Malaysia YES YTL Technology Prize
> 2011 – Asia Pacific Milestone Best Integration Award
> 2010 – Stockholm Challenge (Finalist)
> 2008 – Navteq LBS Challenge (Semi-Finalist)