Building Visualization & Control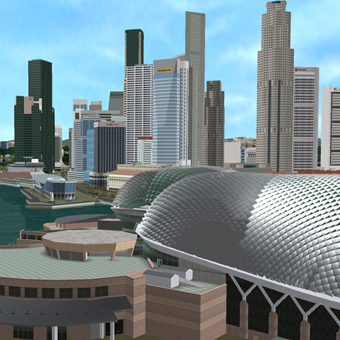 Real-time Interactive 3D Premise Visualization
Using optimized 3D building load caching with progressive texture loading, NUCLEUS is able to render 3D structural and textured premise models with interactive performance. Be it 3D indoor/outdoor/structural building rendering, the user is able to directly pan, rotate, zoom in/out and manipulate the 3D premise models.
With NUCLEUS, users can also walk through the virtual premise in first-person navigation mode and toggle different environmental settings to visualize their 3D premises.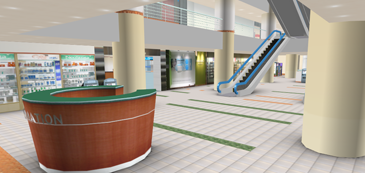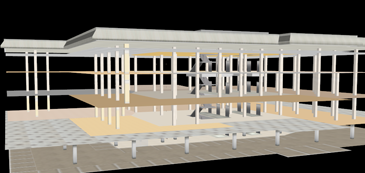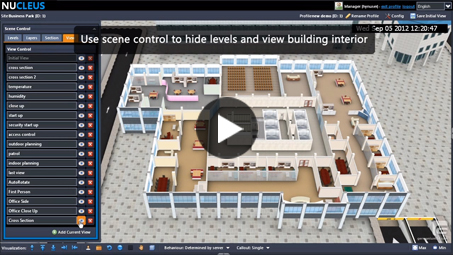 3D Building Control
NUCLEUS's hierarchical structuring of 3D premises into buildings, blocks and levels enables the user to have an in-depth control over the 3D premises visualizations. Apart from basic show/hide of the individual buildings, blocks and levels, users can also slice the building block cross-sectionally in order to view the building and related situations from a cross section.
---
3D Situation Visualization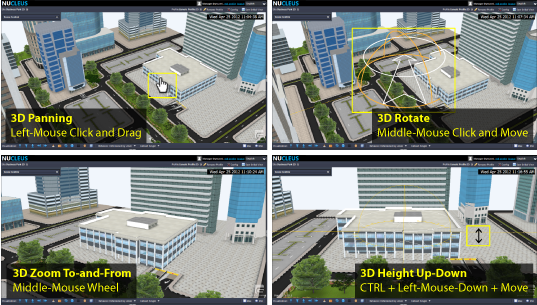 Interactive Orbit-Mode Navigation
To complement NUCLEUS' clear visualization of the 3D premises, NUCLEUS provides many methods of moving around the 3D premises, so wherever there is a point of interest or whenever there is an event of interest, the User can choose the navigation method that best suits the situation. In the interactive orbit-mode, the User can freely pan, rotate, and zoom into the 3D premises from a 3rd-person viewpoint, manipulating the 3D premises as if it were a miniature being held in hand.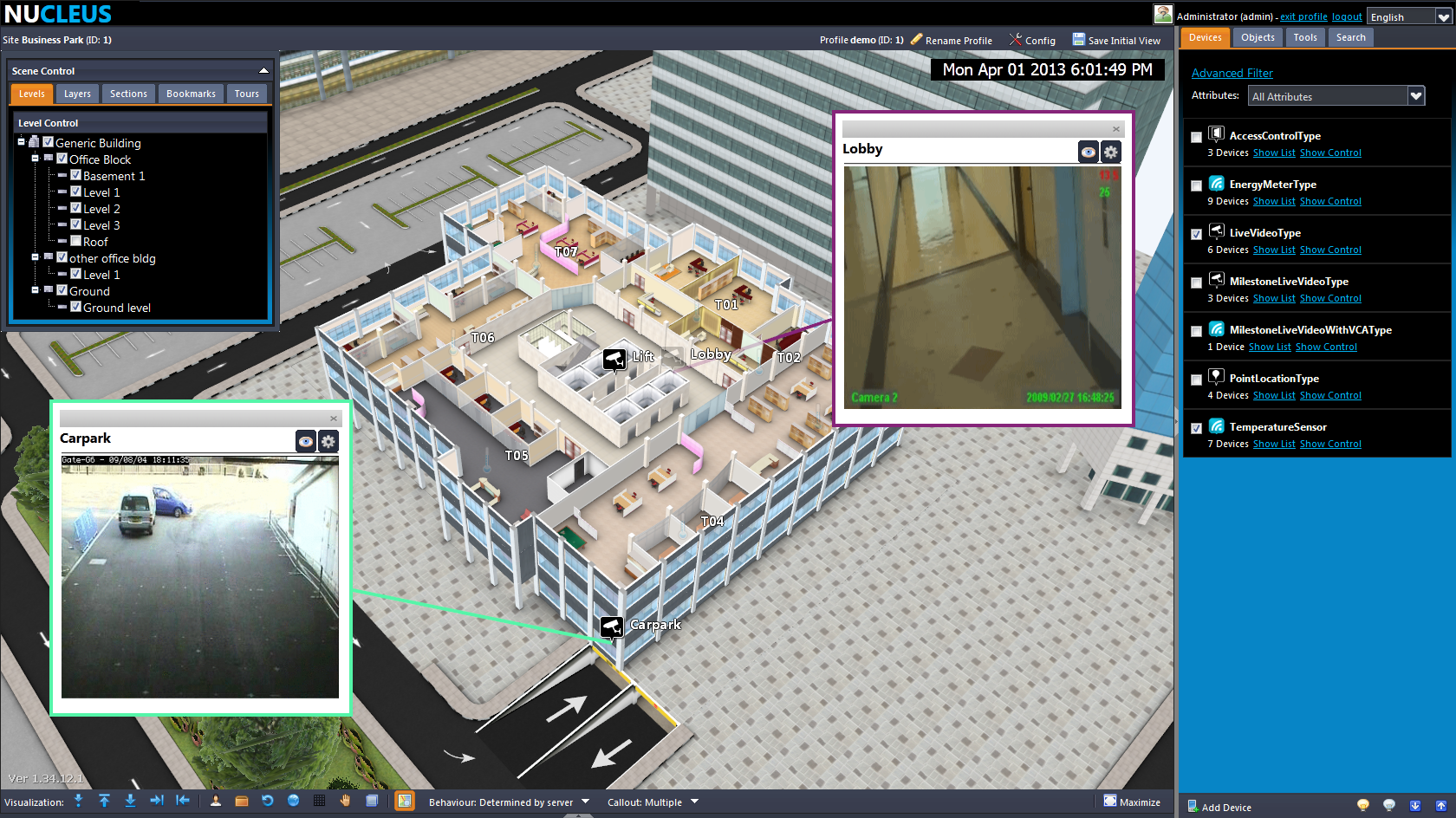 3D Data and Event Fusion
Apart from being able to view 3D premises, NUCLEUS helps to fuse the multitude of data captured from various third-party IP-based systems (e.g. VMS, BMS, ISMS, RTLS) with the 3D premise model. Coupled with data, event and 3D premise model, user is able to fully visualize the situation happening right in the premise.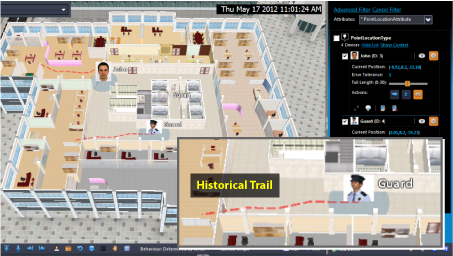 3D Location Fusion
As a unified management system, NUCLEUS can be integrated with a variety of external real-time systems to provide a single, unified command view of the 3D premises and the sensors and controls it contains. The User can effortlessly see the actual 3D location of any device integrated with NUCLEUS (e.g. which room a sensor is installed in), without the need for specialized training to read floor-plans and other traditional materials. For devices which track moving objects, e.g. RFID trackers, the User can see the object's motion trail, in order to understand where the object has been and to have a hint at where it's headed.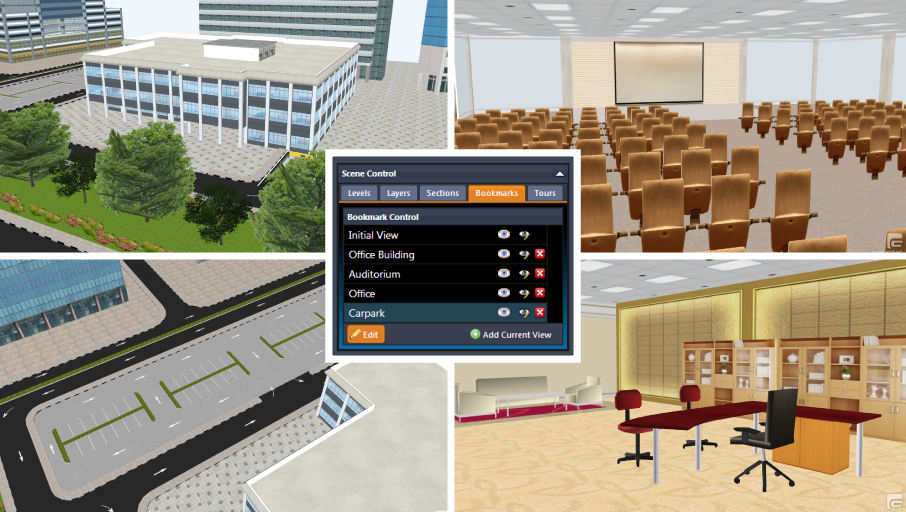 3D Bookmark Management
NUCLEUS enables users to 'bookmark' important locations that they have visited in the 3D premise model. Each NUCLEUS 3D bookmark stores specific virtual 3D camera and scene parameters, such that when a bookmark is selected, the 3D scene automatically glides to the previously recorded camera and scene parameters.
Interactive Measurement Tools
NUCLEUS provides tools and utilities to query specific information about the 3D premises. Just by using the interactive measurement tool, the User can easily click on any 2 points in the 3D view to measure the distance between them.
---
3D Situation Management
Real-time Sensor Device Management
NUCLEUS enables users to define, create and manage sensor devices that are physically deployed for their premises.
NUCLEUS also provides the Sensor API that enables system integrators to integrate real-time data from different third-party IP-based sensor sub-systems to NUCLEUS. Such sensor sub-systems can include Video Management System with live CCTV systems, Integrated Security Management System with access control systems and fence intrusion systems, Real-time Locating System with indoor/outdoor positioning sub-systems as well as Integrated Building Management System encompassing environmental sensors, such as temperature sensors, humidity sensors and energy meters.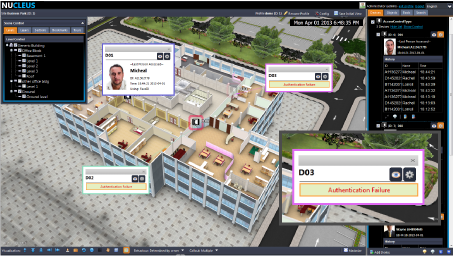 Event and Alarm Management
NUCLEUS relays events and alarms from sensor sub-systems to the end-user via its event panel. The Sensor API also enables system integrators to customize different event and alarm behaviors, such as automatically gliding to event location or highlighting the affected region, in the 3D scene as well as the system user interface.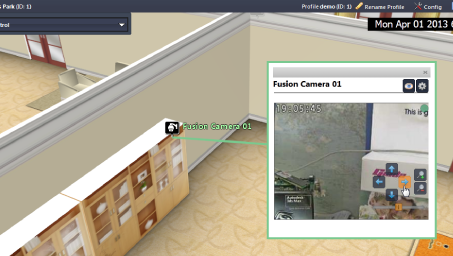 On-demand Device Query/Control
To minimize information overload, the User can have focused view of a device's real-time information and controls by clicking its icon. The information and controls are then shown in a floating callout beside the icon. For example, when clicking a PTZ camera device, the callout displays both the video feed from the camera as well as its PTZ controls.
The User can also choose to have a more comprehensive view of all the device's details including non-real-time information by expanding its entry in the side panel, also conveniently accessible via a shortcut button on the floating callout.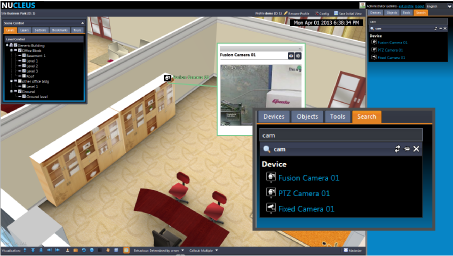 Device/site Information Search
On large sites, there can be hundreds of devices and user objects. NUCLEUS provides a search function where user can simply type in part of the item's name and NUCLEUS will quickly filter through the list of BBL, user objects and devices to aid user in finding items.
---
Advanced User Interface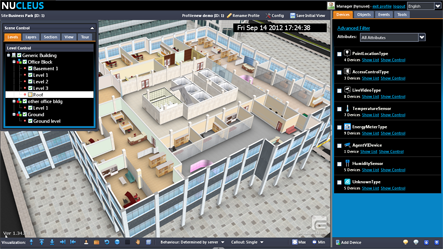 Easy-to-use Web User Interface Style
NUCLEUS provides an easy-to-use and familiar web user interface style. The NUCLEUS frontend layout is easy to adjust, enabling the user to maximize or adjust the size of the 3D premise visualization window for different presentation purposes.
---
General Administration
Multiple 3D Site/Profile Management
NUCLEUS provides the site management tools for the administrator to upload, create and manage different 3D premise sites. For each premise site, the administrator can further create group of devices, known as profiles, which only specific groups of users can access.
Advanced User Management
NUCLEUS requires authenticated login for access, and enables the administrator to set up and manage user accounts. NUCLEUS also enables the administrator to manage user access rights to sites and profiles, as well as to manage action rights of different user roles.
Placemark Library Management
NUCLEUS provides the placemark library management tools for the administrator to upload, create, group and manage 3D objects as well as 2D icons which can be used to represent the sensor devices and planning objects.
Custom Device Type Management
NUCLEUS provides the custom device definition user interface for the administrator to define custom types of devices as well as the display behavior for the custom devices.