NUCLEUS for your Smart Premises – Key Benefits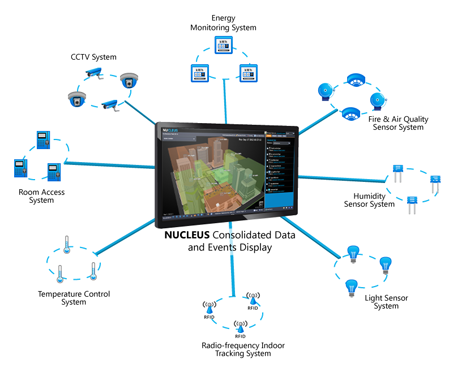 1. Comprehensive Situation Awareness
Instead of having to monitor several, different sensor sub-systems, the premise manager will only need to monitor NUCLEUS for comprehensive situation awareness, as NUCLEUS already integrates all real-time sensor data and events in the premises with the 3D building/premise model.
---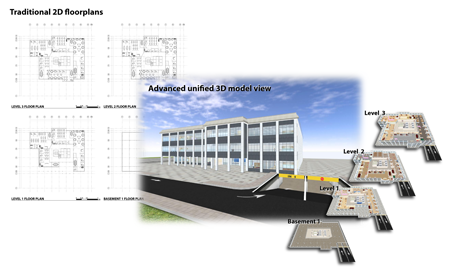 2. One Unified 3D Situation View
In traditional 2D map-based solutions, situational information is forced to be spread across several map pieces, as each 2D map can only represent a specific floor or section.
Instead of requiring the manager to monitor situational development over numerous 2D floor maps, NUCLEUS presents one single, unified 3D view of the situation using the 3D model of the premises. This enables the premise manager to effectively correlate incidents across different floors and sections, and avoids unnecessary blind-spots in judging situational incidents for further action.
---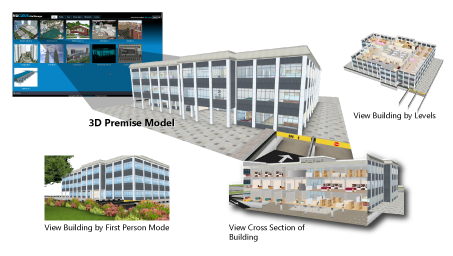 3. Better Emergency Preparedness
Instead of grappling with detailed architectural floor-plans that are difficult to interpret quickly, NUCLEUS enables managers to retrieve their 3D premise models quickly and provide powerful building visualization tools for managers to study their 3D premise models easily for emergency response purposes. Managers can easily view different 3D building floors, visualize the building cross-sections and explore the 3D premises virtually.
---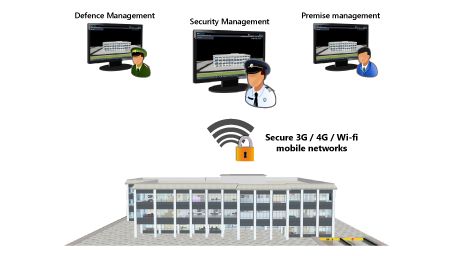 4. Secure, Networked Access to 3D Premise Information
With NUCLEUS, 3D premise models can be accessed by authenticated users via network. This enables mobile, field command units to access 3D premise models securely via 3G /4G/wi-fi mobile networks during event operations. In addition, premise managers can use the 3D premise sites for discussion, work-planning, and training and familiarization of staff in the management of multiple remote premise sites.
---
5. Direct Situation Communication/Co-ordination
NUCLEUS provides a visually clear and powerful way for premise managers to brief and co-ordinate tasks and watch-points for his or her teams, using the 3D premise model as the briefing context. When deployed on a large multi-touch screen, the manager can also directly control the 3D premise model via simple multi-touch actions to engage the operational team efficiently.
---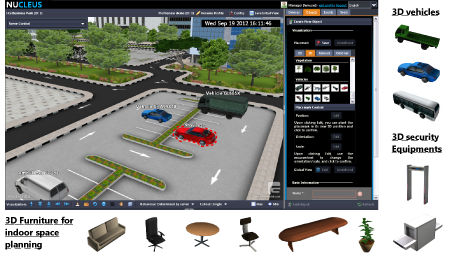 6. Intuitive 3D Asset Planning Support
NUCLEUS provides 3D asset planning tools for premise managers to develop asset plans by planting 3D asset models directly onto the 3D premise model. This enables managers to create different types of plans, such as event and deployment plans, for training, briefing and contingency purposes.
---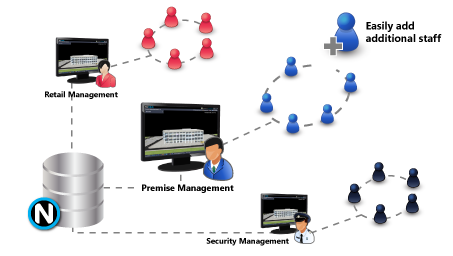 7. Ease of Team Scalability
NUCLEUS provides the scalability to add additional staff members to the premise management team. Based on a networked, web-based architecture, it is technically fast and easy to set up access and usage for an additional user. There are also no application restrictions on additional users and connected client-machines. Thus, NUCLEUS is ideal for major events where the operations team can scale easily from a small group initially to 50-100s users eventually.
---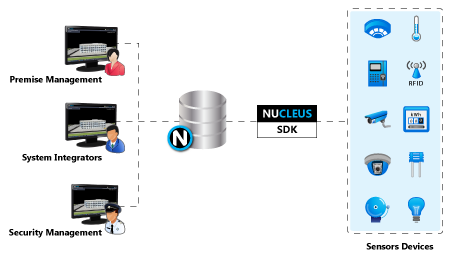 8. Open Integration Platform
NUCLEUS provides the extensibility, via the NUCLEUS SDK, to integrate with custom sensor devices and other live data sources. This enables end-users and system integrators to systematically plan extension roadmaps to integrate with other sensor sub-systems in the future.
Using NUCLEUS's open integration platform, premise owners get to mix and match the "best-of-breed" systems for an optimal system design, and system integrators are able to deliver the target system design at lower costs in comparison to R&D costs in direct integration.